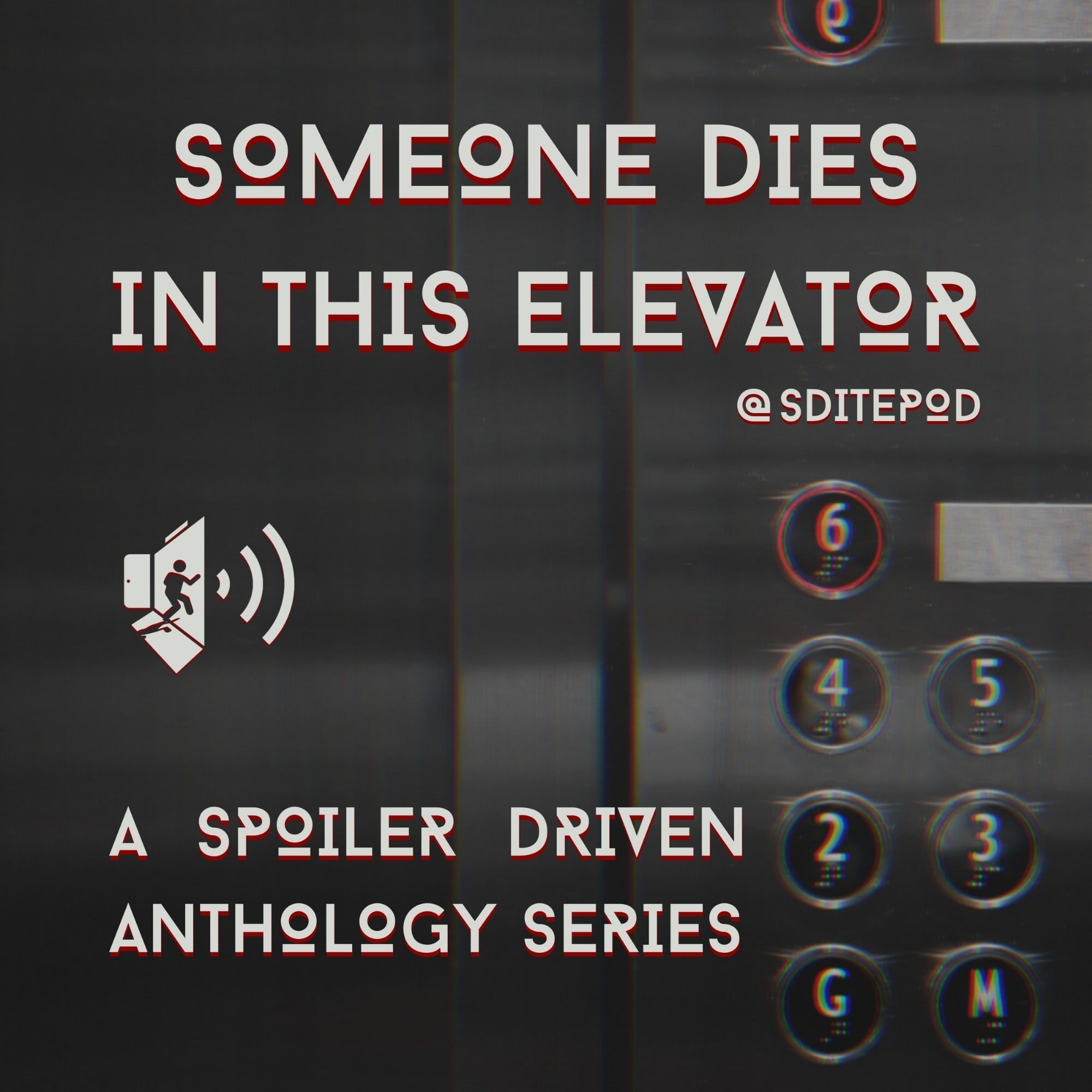 Visit productionfunder.com/projects/someone-dies-in-this-elevator to support the show! Transcript: Hi there listener, this is Tal Minear, your showrunner and co-producer. Someone Dies In This Elevator will be here at the end of this month, and we're crowdfunding to pay our cast and crew right now. You can listen to the first episode by donating any amount at production funder dot com.  We also have digital perks, unlocked early episodes, bloopers, and the soundtrack; physical perks, like stickers, magents, and cards; higher pledges like pick the microfiction we release during our hiatus after the season, name a character, cameo in an episode, and even become an associate producer. Most importantly, at every level, you're helping us make the show. This was the combined effort of 67 people, and we really want to pay them what they're worth – but we can't do that alone. Podcasts are free to listen, not to make, unfortunately. There's a link to our fundraiser in the show notes, and the campaign will be open until our first season launches on April 26. Now, you approach the elevator. Will you press a button and walk away? Will it take you to a new floor? Do you make a sacrifice to the elevator or friends with it? Perhaps you become it's latest operator? Or if you have elevator insurance, don't worry, I'll save you soon. Thanks for listening, it means a lot to me, regardless of if you can donate or not.  You'll be hearing from me soon at the end of the month, and in the meantime, keep an eye on those elevators… And the people who are in there with you.
Someone Dies In This Elevator is a spoiler driven anthology podcast where the only thing that ties each story together is that (1) it takes place in an elevator and (2) someone dies (in the elevator, of course). The elevators vary from episode to episode, in both time and place.

Maybe it's a space elevator. Maybe it's a corporate elevator from the 1920s. Maybe it's an elevator to an underwater steampunk world in an alternate 1700s. Maybe it's the elevator to an apartment complex in 2020. It doesn't have to be ordinary or fantastical. It just has to be an elevator. And someone's gotta die. Who's in the elevator? Who dies? What will happen next?

The show was founded as a creative writing exercise – a "what if" that turned into "Wait, we could do that" (as podcasts so often do). The show name tells you everything you need to know – someone dies in this elevator, but everything the title doesn't tell you (Who? When? How? Why?) is what draws you into each story, despite thinking you know how it's going to end. This show was founded to play in this space, to see how far you can go with this limit and enjoy every part of the process.

Despite the title, not every episode is a work of horror or sadness. Maybe it's a happy episode and at the end, a fly dies in the elevator. The stories of this anthology podcast are not linked through tone – they're linked by the premise. The only limit is what can happen in an elevator, and trust us, a LOT can happen in an elevator.
---
Podcasts are Free to Listen,
Not to Make.

Support Independent Audio Fiction so we can keep making more episodes and pay our cast and crews!
---
Elevator Safety PSA
Elevators are safe machines necessary for everyday life. While, yes, we are terrified of the thought of dying in an elevator, provided they've been recently inspected and given their proper maintenance, you should be fine… statistically speaking. In our episodes, one of our themes is what you should really be afraid of who is with you in the elevator.
Well, unless there are extraordinary circumstances, like if you do, well, anything that happens in our episodes. Please do not tamper with any elevators you find, and our decision to take the stairs is in no way connected to our fear of elevator serial killers – we just find them immoral on multiple levels.
---
Elevator Buttons – Press to Go on a Sound Escape
Transcripts and Mono-Mixes available on Episode Pages
---
Writing Guidelines:
11-minute script

About 11 pages using Audio Play Format (Modified Screenplay)

Takes place in an elevator

The POV will stay within the elevator, though obviously characters might be entering and exiting.

Someone dies in the elevator

Does not have to be a human person
Must be a living "someone" so that it can die
Must be a literal death
---
---
---
Tal Minear
Someone Dies In This Elevator Showrunner
[they/them] Tal is a SoCal based podcaster who cannot be stopped from making things. They are the creator and producer of Sidequesting and What Will Be Here, and the co-creator of Light Hearts and Someone Dies In This Elevator. Tal's voice can be found in other audio fiction shows, including Novitero, The Path Down, and Transmission Folklore. Tal is also the sound designer for Seen and Not Heard, Sidequesting, and Light Hearts, and they occasionally write for other audio dramas. Find out more about Tal's work at talminear.com.